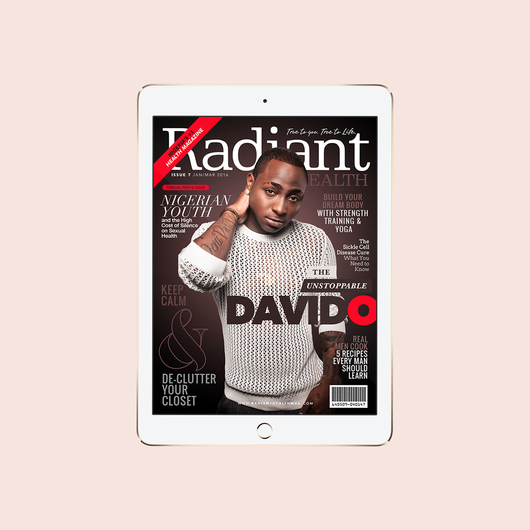 Radiant No. 07 | Digital
Special Men's Issue

Available for all iOS and Android phones and tablets.
Issue No. 07 Digital
We call it the Men's Issue, but it's not just for guys – nor is it all about men. It's more about understanding the role we all play in making an impact on the lives of the people around us.

The unstoppable Davido was a perfect fit for our cover as his story is one of incredible talent – and, dare we say it, radiance. In this, our premier digital, issue, we talk about what matters, from sex education in Nigeria to the cure for Sickle Cell Disease. This is one issue you don't want to miss.
 Issue Highlights:
At just 23, Davido is at the top of the Afro-pop scene. But, he's surprisingly down to earth – and one of the hardest working men on it.
Is there any sex education in Nigeria? The consequences of silence are extreme, but there are ways to keep our youth safe.
Recent advances in Sickle Cell therapy change the way people live. Here's what you need to know about the disease and the cure.
Every man should be able to cook – for himself and his family. We've got recipes he'll be proud to make – and you'll devour eagerly.
Ever wonder whether decluttering your closet will change your life? Or how yoga increases your strength? You'll find the answers to your questions and so much more tucked inside this issue.
Each interactive digital edition presents a smooth reading experience; browse videos, audio, and links without leaving the issue on the app. Also features free web content within the app; updated weekly.
To subscribe click the app icon above for your device and complete subscription within the app. If you decide you check out via our online store here, you can access your subscription by downloading the Radiant Health app on the Apple App Store or Google Play Store.  From the menu bar select "Account" and then "Sign In." You can then sign in with your Google email to activate your issues. It must be the same email used at the time of purchase.